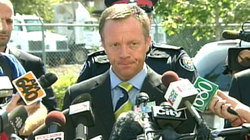 The judicial verdict is in on the sensational case of Michael Bryant. It sounds like a tragic case of a driver whose car's stop/stall/roll action accidentally provoked an unstable bicycle courier, with tragic and ultimately fatal consequences. The driver appears to have behaved completely reasonably under the circumstances. The cyclist had a long history of aggressive confrontations and appears to have behaved in a threatening manner.
I take no issue with the facts of the case or the judgment. However, the incident has taken on large proportions in the media and the cycling community, and I find the official legal summary wanting in this regard.  The crisp, neutral judicial language gives the document the air of Truth and Justice, when in fact it only represents The Law.
The document answers the legal problem at hand, a judgment on dangerous driving, and therefore focuses entirely on what constitutes "reasonable driver behaviour" under the circumstances.  Lost in the context is what constitutes a reasonable cyclist's reaction – and while the cyclist was not reasonable, an emotional reaction to having your rear wheel bumped is legitimate, and a subsequent furious reaction to being sent flying over the hood of the car is also fair.  Because the document is necessarily focused on the Law, all such points on the public debate of cyclist/driver perspectives and emotions are out of the picture.  Also lost in the discussion is any mention of the differences between car/car collisions from car/bike collisions – what may be a fender-bender in one context is an unnerving experience in the other, even if the vehicle doesn't touch the cyclist's skin, or if the vehicle is only going 13 km/h when it sends the cyclist flying over the hood.
The cycling community's discontented reaction to the case stems from a desire for the driver world to "please understand our feelings!"  Unfortunately, this particular cyclist's aggressiveness makes it an unlikely to elicit any soul-searching.  Note however the pattern: whether the cyclist is in the wrong (this case) or in the right (2008 story with a cyclist's amputated leg), the cyclist will always be the one who gets injured or killed.
The morals: cyclists must hold their tempers, no matter the incident. And, there's a profound lack of mutual understanding and respect still out there on the streets.