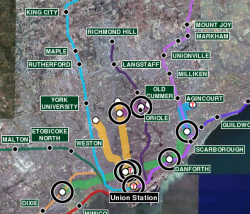 I've been reading Steve Munro's blog lately, as he discusses the nitty-gritty details of transit planning in Toronto. He brought up an interesting point regarding the extension of the Spadina subway line to York University: there's already a GO transit line that goes direct from York University to downtown, and GO is a better way of feeding people into the downtown than the subway line. (The Yonge line is already at capacity now.)
So what about GO? I've only used it once or twice, and I really didn't know much about it. I didn't even have a picture of the network. So, I added the routes to my Toronto transit map. It was an interesting exercise – I'd never thought of Dundas West or Leslie subway stations as interchanges, but they are. You get a different view of the connectivity of the city this way – Agincourt is surprisingly close to downtown (a 27 minutes ride), the Danforth station near my parents' house is only 11 minutes from downtown, and York University is only 22 minutes from downtown. Living in downtown without a car, there are routes to take you a huge distance from Toronto: Bradford, Milton, Hamilton, and Oshawa are all in reach. If you combined GO with a bicycle, you could get to Lake Simcoe or tour the rural areas around Toronto.
The problem, however, lies in the frequency and the hours of operation. Most of those trains only serve one-way peak hour travel, so you can't use them for a daytrip from downtown to the hinterlands. And they run so infrequently that you would rarely choose them as an alternative to the subway. As Steve Munro suggests, we really need upgraded service on the GO lines. I'd love to see a service like Lausanne offered, with trains in every direction at reasonable frequencies.
I think it's interesting that GO is so absent from the lives of Toronto residents. As a local, I was completely oblivious to that network – mostly, I guess, because it was nearly useless to me with its present service levels. It doesn't even show up on TTC maps, which further marginalizes it. My only awareness of GO was where the tracks disrupted my bike ride, like the dip under the tracks on Woodbine. And yet, it could be a valuable part of carfree life in the city.