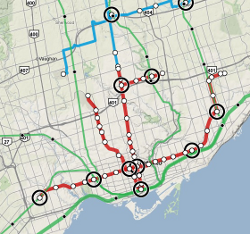 Several years ago, I put together some Google Maps for the Vancouver and Toronto transit systems. In light of the expected opening of the Canada Line in Vancouver on August 17th, I took a shot at updating the maps.
In the interim, though, Google has made some big advances in its handling of transit. They have a full database of rapid transit stops in Toronto (GO and TTC subway), and a layer that shows the TTC subway lines as well. York Region has provided Google with full local bus data, including schedules, and Google Maps does a fairly nice job of showing that information. That said, the visuals for the transit system aren't the most attractive, the lines showing the GO rail network are hard to see, and other major transit facilities don't jump out at the viewer (like the York VIVA BRT Light system or the Spadina streetcar). And in Vancouver, Google still has zero data.
So, my maps still serve a purpose. The changes in this edition are:
Added York VIVA Blue and Purple lines
Changed Toronto colour scheme to colour code by operator (TTC, GO, VIVA) rather than by line. Changed line thickness to represent "all-day" vs. "peak only" service
Added links to TTC and GO station websites
The debate over "what to include on the map" is growing in my mind. Should St. Clair and Spadina be in, since they have partial segregation from traffic? Should the north half of VIVA Blue really be in, when it has 15 minute frequencies in the peak hour and operates in mixed traffic?
Removed 98 B-Line and moved Canada Line to the "present day" map. Updated Canada Line alignment, added numbers of connecting buses.
Changed colours to match latest TransLink map, and changed line thickness to represent "all-day" vs. "peak only" service
Codebase
Moved to more modern Google APIs now that they exist (e.g., GMarkerManager)
Removed labels from map – the Toronto map in particular was far to cluttered, and the speed penalty for showing the labels was too high. They're still there, but only if you move the mouse over a station icon.