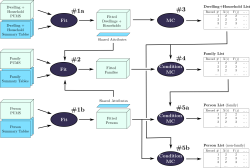 I've finally published my M.A.Sc. thesis as a journal article, under the title Advances in Population Synthesis: fitting many attributes per agent and fitting to household and person margins simultaneously.
This article is the preferred citation going forward; I think it tells the story best:
A brief summary of the key contributions described in detail in my thesis
A better explanation of the U.S. context and the applicability of this work outside Canada. Statistics Canada goes to great lengths to protect Canadian privacy, and some of my work was motivated by the particular difficulties associated with Canadian census data.
My thesis is still a good source for anyone wanting greater detail, or anyone interested in a clear explanation of some of the Canadian data sources I used.
Continue reading Advances in Population Synthesis, the journal article →