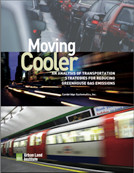 Six weeks ago, I wrote a first piece on the Moving Cooler report. In that post, I walked through some of the report findings:
Scope and approach
What would happen if we deployed a sensible "bundle" of policies all at once?
How do individual policies compare, within that bundle?
In this post, I'll continue by looking at:
What about at a "maximum" level?
Conclusions
What does maximum deployment look like?
In the previous post, I looked at a few of the "big impact" policies. At the time, I focused on the "aggressive" deployment level. In this section, I want to switch gears to the "maximum" deployment level and dive a little deeper. Continue reading Moving Cooler, part 2 →