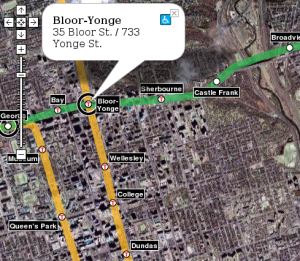 Last August, I put together a transit map for Vancouver using the new Google Maps API. I recently went through and updated all the code, switching it over to XML for the geographic data. Using that backend, I've now put together a Toronto transit map. So far, I've only got the TTC on there – GO bus and train routes would also be valuable, of course.
It was an interesting exercise to put together. I now understand why I never use the northern part of the Spadina line: north of St. Clair West, it runs directly under the Allen Expressway, which kills the life around those stations. When transit and freeways compete, freeways usually win. I also now see the folly of the Sheppard line: I think it's too close to the 401 to compete. Additionally, since it's north of the 401, it'll never be able to capture much ridership from anyone living south of the 16-lane freeway, even though there's probably more potential for dense development on the south side, closer to downtown. It's interesting to compare the station density in Toronto and Vancouver: the Toronto stops are much, much closer together than the Vancouver stops. The new Sheppard line is similar to Vancouver station spacing, though.
And incidentally, I've also updated the Vancouver transit map to include the two routes that'll be finished in 2010: the Canada Line (a.k.a. RAV / Richmond-Airport-Vancouver) that will replace the 98 B-Line and the Evergreen Line that will replace the 97 B-Line.
I'd like to allow others to add a transit layer to maps on their web pages. When I last used Housing Maps to view CraigsList listings on google maps, I found myself desperately wanting a transit overlay. I think it'd be possible to write a Mozilla addon button that just added a transit map to whatever webpage you're viewing… I've just got to figure out how to do it.