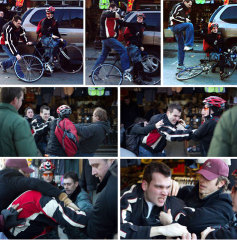 Spacing Wire is carrying a curious story about a road rage incident in Kensington Market, between a parked motorist and a bike courier. Normally, this would be no big deal, just another day in the big city. But Adam Krawesky captured some evocative photographs, and now the story is making the rounds on the Internet.
The photographs only show one side of the story, the end of the altercation. It began with passive aggression: the motorist throws food out of the window, and the courier throws the food back in the window. (Passive aggression is both very Canadian, and very typical for a cyclist, I think.) The driver then escalates to assault by dumping coffee on the courier, who retaliates with property damage by keying his car. And it ends with the driver escalating to full physical assault, shown in the photos.
The full set of images are available here.