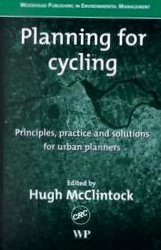 For some time, I've been curious to learn more about European approaches to designing bicycle routes. I'd heard the statistics: over 30% of all trips are made on bicycle in Amsterdam and Copenhagen, and even more in some Asian cities like Shanghai. But how did they make bike routes that were safe enough for so many people to feel comfortable doing that? Unfortunately, they publish mostly in Dutch or Danish, not English. The English-language publications I've seen have been dominated by American designs, which tend to be either a) stone age; or b) trying to reach the bronze age. (That's just the state of transportation issues in the U.S., I'm afraid…)
So I was pleased to find Planning for Cycling by Hugh McClintock of the University of Nottingham. It's a collection of chapters from a UK perspective, including chapters from several European jurisdictions. A few interesting bits of trivia from the book:
In Denmark, all taxis must be able to carry bicycles
The Dutch really hate bicycle helmets. While they may help with cyclists who fall off their bikes, they don't help much in car collisions, and they're really uncomfortable and unfashionable.
42% of the streets in Copenhagen have "cycle tracks" (sidewalk-level bicycle paths).
30% of the traffic signals in Copenhagen give cyclists priority over motor vehicles (an early green)
Both the Danish and the Dutch acknowledge the typical factors for their success (flat terrain, "cultural" tendencies, dense cities), but also emphasize that their explicit policies supporting bicycles have been decisive influences.
Bike-ride-bike ("sandwich") travel is common in both Denmark and the Netherlands, where the traveller combines a transit/train ride with a bike stored at either end.
A survey of several thousand children in the UK found that many would vastly prefer to be able to travel by bike. Over 50% of 11 year olds preferred bicycles (compared to 16% who preferred cars). I think that children really lose a lot in terms of independence and self-reliance when forced to live in car-dependent areas.
Despite increasing federal funding by a factor of 10 between 1990 and 2000, the U.S. has only seen a 10% increase in cycling.
I've got quite a few notes on the book, available here.